Description
The Library contains over 1,000 pages of resources, references, links, and study material to help you prepare for the exam and to assemble your own Test-Day Resource Library© for use on test day. The Library has information on every topic listed at NCEES and is arranged to allow for easy navigation.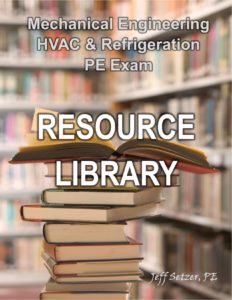 Preparing for the PE Exam can be simplified to the following 3 steps:
Work through available information … follow references … dig deep.
Work as many problems as you can find and note where you have difficulties.
Take the time to put together a comprehensive

 

Test-Day Resource Library©
Remember, this is a process. If you will spend time every day, work the problems, and assemble the resources, … you will be successful.
If there is anything I can do for you, please do not hesitate to ask.
To Your Success …
Jeff Setzer, PE


[contact-form subject='[Mechanical HVAC %26amp; Refrigeration'][contact-field label='Name' type='name' required='1'/][contact-field label='Email' type='email' required='1'/][contact-field label='Comment' type='textarea' required='1'/][/contact-form]
Mechanical Engineering – HVAC & Refrigeration PE Exam Resource Library